SEO Blog

01202 237121
Find out why High Impact can benefit your business.

---
High Impact is one of the leading Search Engine Optimisation (SEO), Internet Marketing and Website Design companies located in the South West of England.
Our goal is to make our clients websites the most successful in their market sector. We achieve this by implementing strategies that can increase the number of visitors to their website and improve sales conversion when people visit.
We have extensive experience of taking client's websites and significantly improving their rankings on the major search engines, including Google, Yahoo and Bing.
If you are one of the many business owners who is frustrated because your website does not appear on the first page of Google for the products or services that offer then contact us today to find out how we can significantly improve this for you!
Benefit from a Google 1st Place organic ranking like this client.

Or if you receive lots of traffic but you are struggling to convert this into sales then let us analyse your website design. We will identify the issues and then implement positive changes that will reduce bounce rate and increase your sales!
Benefit from a low bounce rate and improved sales conversion!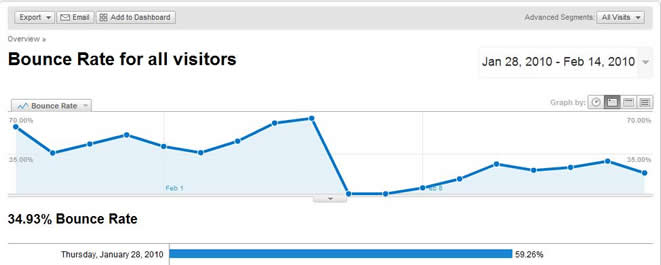 High Impact can successfully manage your online communication leaving you more time to run your business.
If you want to work with a team of people that can make a positive impact on your business then please contact us to discuss your needs in more detail.