01202 237121
Bespoke Website Design
---
Why is bespoke website design so important?
There are many website templates available for people to choose from and some of them maybe worth considering especially if you have a limited budget, or you could try and design the look and feel of your website yourself. However, not all of us have the experience, time or skills required to do this. Most of us would like our website to be unique and stand out from the crowd, so a generic template that other people could have used to build their website is not an option, and trying to find a template that fits exactly with the theme of your website and promotes your point of difference is almost impossible. In this case a bespoke website design is probably the best option.
The visual design of your website and the layout of your content is the first thing that most people's brains will acknowledge when they first visit your site. The majority of people tend to process images far quicker than the written word. This is presumably why some people say that a picture can paint a thousand words!
In a World of stock templates and similar websites there is little wonder that some people get confused or even bored of uncreative websites. One of the most important things to help you immediately differentiate yourself is to have a bespoke design. Like everything in life, first impressions count and this is true with virtually all types of websites. If your website doesn't have that all important "wow" factor, then your bounce rate maybe high. This could cause you to lose those visitors that you have worked so hard to find and send to your website. The end result could be missed sales opportunities and nobody wants that, especially if they are trying to sell products or services through their website. It is important to give your visitors buyer confidence, an enjoyable on-line experience, ease of navigation, relevant information. A professional bespoke website design will help you achieve this.
First impressions count for alot especially when it comes to preventing people from clicking on the dreaded back button! So what prevents people from only spending a couple of seconds on your website before they may decide to continue their search and head back to Google, another search engine or directory? The answer is simple, the visual appearance and design of your website! Web users usually tend to form their first impression within less than a second of landing on your website page. In fact researchers found that the brain makes a decision in just a 20th of a second!
"Unless the first impression is favourable, visitors will be out of your site before they even know that you might be offering more than your competitors" (Dr Lindgaard 2006)
Dr Lindgaard and his team, like us were amazed by these results because they thought that it would be at least ten times longer than this than for a majority of people to form an opinion.
"…the strong impact of the visual appeal of the site seemed to draw attention away from usability problems. This suggests that aesthetics, or visual appeal, factors may be detected first and that these could influence how users judge subsequent experience……Hence, even if a website is highly usable and provides very useful information presented in a logical arrangement, this may fail to impress a user whose first impression of the site was negative." (Dr Lindgaard 2006)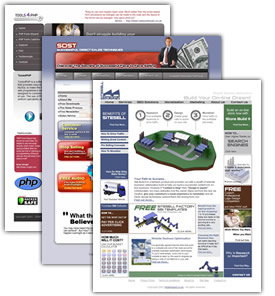 The study which was published in the journal of "Behaviour and Information Technology" also suggests that first impressions have a lasting impact. Having a complete bespoke website design is similar to having a suit tailor made. The high quality end product is a result of specialist skills and craftsmanship.
One of the most enjoyable parts of building a website for many people is the visual and creative side of the project. Some people get too carried away by this and forget about the other important aspects that are responsible for driving visitors to their website.
When you select a team to work with, try not to focus just on the visual aspects of their work though, because as you will find out from other pages on our website you need to work with a multi-skilled team who are also experienced in search engine website optimisation, website marketing and how to make money on-line.
Although you want to work with a team that can clearly demonstrate their creative skills don't forget that they must also be able to demonstrate their website marketing skills. Your site will only be successful if you work with a team that understands what is required to successfully market a website.
Some freelancers and agencies create websites that are not search engine optimised (SEO) and can not benefit from natural, organic and free traffic. This could result in your website failing to generate sales, unless you spend a significant amount of money on advertising and none of us want you to do that!
If you don't have all of the skills required or the time available yourself to build a successful on-line business then you will have to find the best team to work with. Unfortunately, there are many people in the World who claim to be able to build you a high quality website and some of those people can probably design you something that will looks very nice, however, whether or not it will drive traffic and generate sales is a completely different question. There are thousands of website designers in the World, but only a small percentage of them can demonstrate that they have built successful websites.
One way of checking their competence is to view their web design portfolio yourself to look at the quality of their design work and view the testimonials that past and present clients have written about them. If you are still unsure then you may ask for permission to contact some previous clients directly so that you can ask them your own questions about their design skills, customer service levels, speed of work etc. Another useful check that you can do yourself is to look at the page rank and Alexa.com score of their own website. If they don't have a page rank or they have a very high Alexa score (over a million), then you know that their own site is under performing and you have good reason to ask them why.