01202 237121
What we do
---
In a nutshell we'll help your company achieve their digital marketing goals, whether this drive more targeted traffic to your website, generating more enquiries or making more sales.
How we do this?
We'll develop a bespoke marketing strategy to promote your products or services to your potential customers.
This will typically involve using marketing techniques to increase the number of visitors to your website and then encouraging them to engage with you, build up trust and then make a purchase.
Following research and planning we will make the best use of your marketing budget by using tactics that will appeal to your target audience.
We monitor results and report the outcome of each campaign so that you can measure your return on investment. We aim is to increase your profits so that you want to continue working with us!
If you would like to find out more information about specific services, please click on the links below.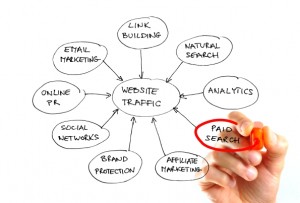 • SEO Services
• Link building
• Social Media
• Website Design
• Internet Marketing
• Content Marketing
• Google Penalty Recovery
• Consultancy
How is your website performing?
If your website is underperforming, why not take advantage of our FREE website audit. It won't cost you anything. Why do we give this away for free? It gives us a chance to show you some of our skills and you'll learn some new information that can help improve your visibility. It's a win, win situation…which is great for all of us!
Complete the form below and start increasing your website traffic!