01202 237121
Social Media Services
---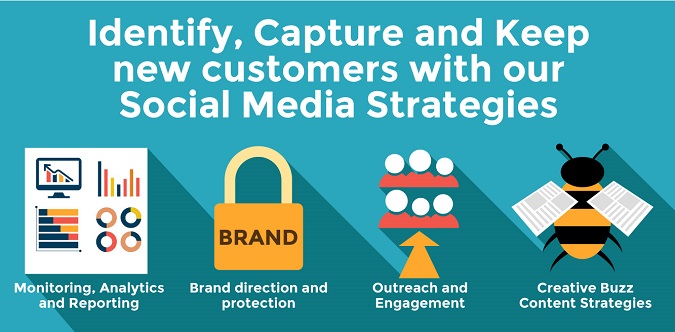 Our social media strategies connect you with influencers, extend content reach and drive traffic to your site.
Social media that makes an impact
Your business social media profiles may already be up and running or you might be dipping your toes into social media's rippling waters for the first time. Whatever stage you're at, it's our job to ensure your efforts are making an impact.
Our social media services ensure your activities are contributing to your online goals and providing return on your time and monetary investments. As SEO specialists and experienced content creators, the High Impact team is uniquely placed to help you make your mark online. We tailor our social media services to your business needs – listening to conversations that matter to keep you ahead of your competitors, providing and promoting shareable content that raises brand awareness and offering consultations to steer you towards the platforms, behaviours and blogger partnerships that are right for your brand.
Social Media Monitoring
We monitor your social media activity, your competitors and customers to help you stay ahead. Our social media monitoring services are available as a one off reputation management audit or an on-going facility, providing insights that can help direct your content creation, search strategy and even your buying cycle.
Analytics and Reporting
We track the progress of your social media goals through a clear reporting system, highlighting opportunities for growth and passing on valuable insights from analytics that help keep your online presence fresh and interesting.
Brand direction and protection
Customers go online expecting to find your brand. It's important that when they do they discover a consistent voice they can connect with. We can work with you to find a tone and social media style that fits your audience or work to your brand guidelines.
Outreach and engagement
When it comes to connecting with influencers and bloggers in your field of interest, High Impact boasts years of experience. We use social media to help build awareness of your brand, spread the reach of your content and build relationships that matter.
Social media content
Our content team create content marketing pieces that help create a buzz for your brand and build pathways between social media platforms and your website, boosting your social media and search goals.
Consultation and strategy
Knowing where to be and how to act is crucial to your social media success. We do all the hard work for you, finding out where your audience is online, what your competitors are doing and giving you the tools and knowledge to step up your social activity.
Are you ready to take your next steps in social media? We know the platforms and influencers that can help your brand make an impact, let us make the introduction.